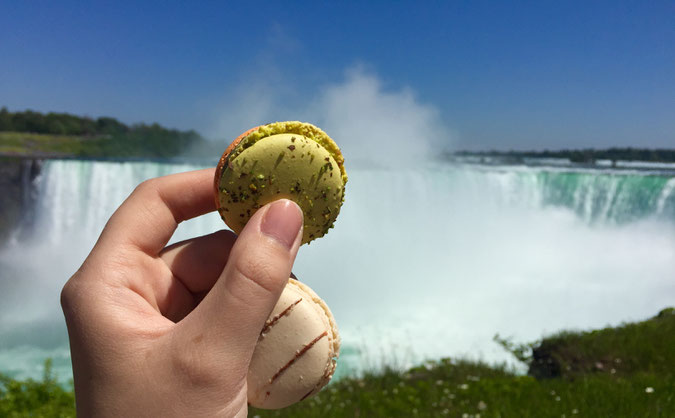 A few weeks ago I visited the east of Canada. Starting in Toronto I made my way to the east coast of Canada.
On my trip I did not only discover beautiful places and meet really nice people, I also had a lot of delicious food. 
Some of it I captured with my camera to share with you. 
As there are so many things and places I would love to tell you about, this post will cover the first part of my food experience, including Toronto and Ottawa. The second part will take you to Montreal. 
Have you visited East Canada already? And tried some of this places below? 
Toronto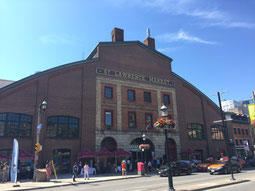 Toronto is a really lively city and in such an international metropolis with lots of different cultures - various delicious food experiences are guaranteed.
With a little research (ok- well, one look at the lonely planet article is sufficient;)) I found the St. Lawrence food market, which open its doors every saturday morning. So perfect for a breakfast visit. 
The St. Lawrence Market has everything a foodie is looking for. Even lots of glutenfree products! :) :)
So my Saturday started with a glutenfree Crepe at Crepe it up! 
The Crepe was delicious.. it just caused one negative side effect: I was too stuffed to try all the other tasty things at the market.  ;) 
But as I had a full day planned with sightseeing I took the opportunity and bought some food for later to enjoy it at the Niagra Falls.
Check out some impressions from the St. Lawrence market.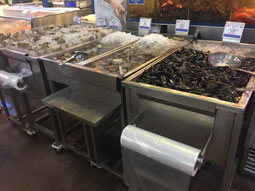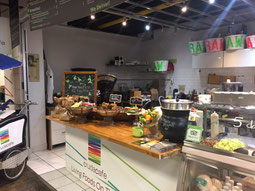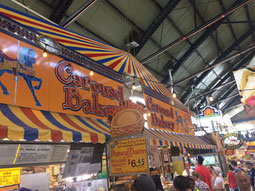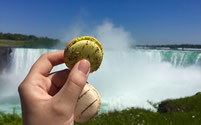 Maccarons from St. Lawrence tasted even better @ Niagra Falls
Ottawa Ribfest
Sometimes you just happen to be at the right place at the right time. 
So it did in Ottawa. I did not plan to stay long in Ottawa but on my way to Montreal, I at least wanted to stop in Ottawa to get a look at the town and have a proper dinner.
Next to the parliament (where everybody was already busy preparing for Canada Day on 1st of July) I walked into Sparks Street.
Although the weather was a little bit chilly that day, the street was very busy and a lot of people where carrying food boxes into the outside areas of the restaurants on that street. 
It did not take me very long to recognize that most of the people were eating ribs. But I did not really understood the concept and where the people were getting the ribs from. .. 
100m down the street I found the answer: There was a ribfest going on. 
It was really impressive to see all the food stands, which displayed all the prizes they already won for their ribs and even more impressive were the long queue of people waiting to get their ribs at every stand. 
I decided to join the crowd and had some twisted potatoes with different kind of Ketchups. ;) Enjoying them I walked down the street and absorbed the great atmosphere before I had to continue my ride to Montreal. 
Although my Ottawa stop was really short, it will stay in my mind with the great light atmosphere, caused by people enjoying and celebrating food.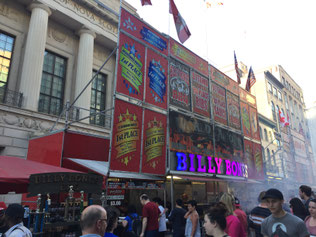 one of the food stands (displaying their prizes)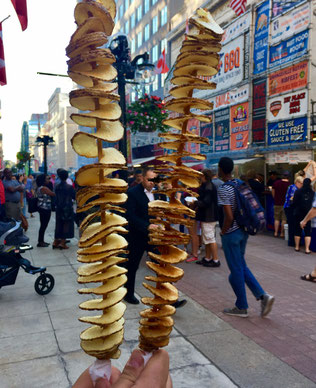 not only about the looks- twisted potatoes
Do you wann know about my food experiences in Montreal? Have a look at the second part of my east Canada foodstory: