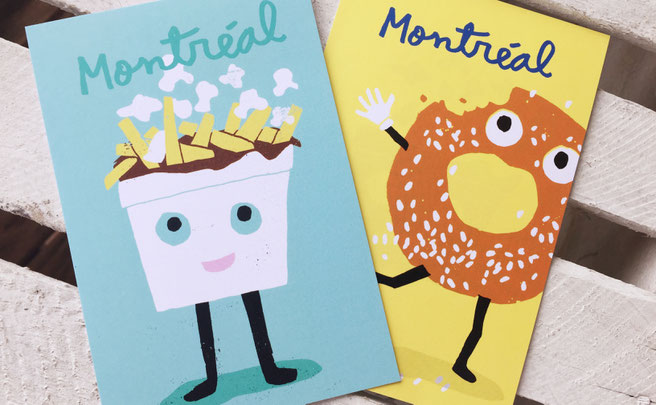 I spend 3 days in Montreal. A city where are so many things to see and so many kilometers to walk.. if you want to get a full snapshot of the city. 
Enough time to discover some really nice food stops.
And let me tell you: it is not only about bagels and poutine - although both are delicious! :)
For me Montreal was about the manifoldness of the city. No matter what your favorite food is, in Montreal you definetly will not get disappointed.
You can find traditional bagel shops, reinterpreted poutine dishes and foodtrends from all over the world.
Bagels:
Since I had visited Canada for the first time in 2013 I am a huge bagel fan. So there was nothing that could stop me to visit one of the traditional bagel shops in Montreal:
St-Viateur Bagel.
Bagels, whereever you look and a tasty smell in the air. 
I was so flashed of that volumes of bagels which were rolling out of the oven, that I even forget to take some pictures of the shop. 
But I captured some impressions of the bagel we bought.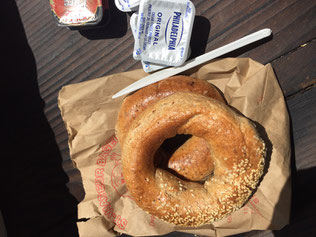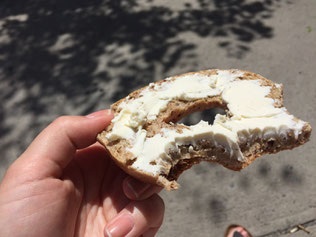 Poutine
No way to leave Canada without trying Poutine. Although it is "just" fries with cheese and gravy, canadas speciality really taste special. The best poutine I had was in Montreal in a restaurant called Dundees Bar and Grill at Boul de Maisonneuvre. Covered with some pulled pork this Poutine convinced me about Canadas special dish.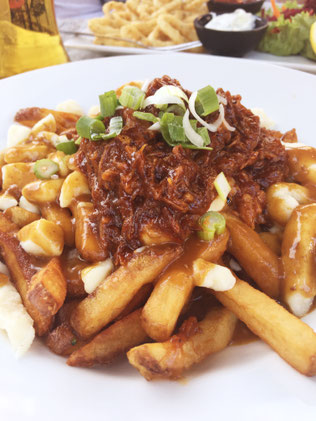 Streetfoodtrend Eggwaffle in Chinatown:
Chinatown covers a few streets in Montreal. You can not miss them, as huge chinese gateways mark the streets. 
Beside chinese crepes, noodle soups and bubble teas, I saw this eggwaffle icecream in one of the small shops at the street. The eggwaffles looked really nice and smelled really good, so I definetly had to try them.
I learned that eggwaffles are a streetfood trend from Hong Kong. Did you know this trend already? 
It really was delicious, although a little bit too much for an afternoon snack.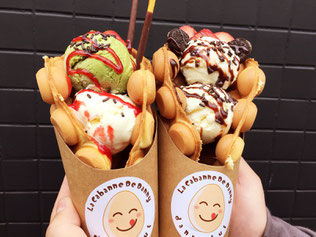 The perfect little shop & cafe: Le Petit Dep
By walking through the old town of Montreal this cute little shop immediately catched my attention. 
The cute window display did not promise too much. 
Inside the shop you can find different kind of sweets, food souvenirs, like all kind of maple syrup, ice cream, coffee, postcards (like the ones on the picture in the top).... This shop is worth stopping by.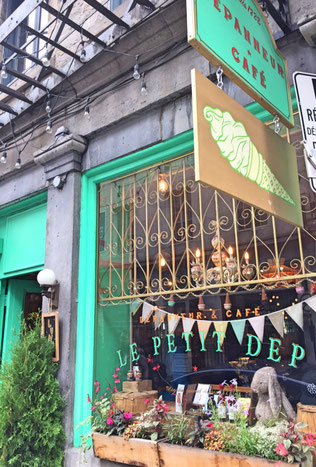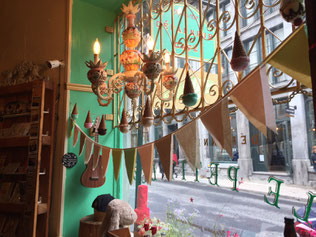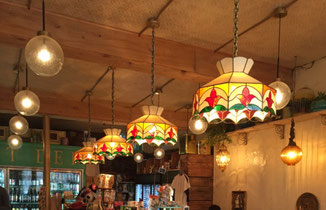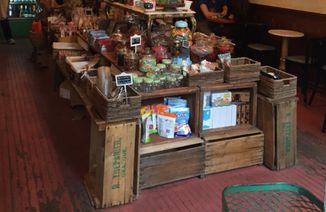 So much about Montreal for the time.. in the next post you can discover Quebec, New Brunswick and P.E.I. with me.